Theo tin iSmart Alarm,
Spot+ has streaming video control with split screen real-time viewing, free cloud video recording and storage, onboard 24/7 continuous local video recording storage with remote playback, smart motion detection, time lapse clips, and smoke alarm and carbon monoxide siren sound recognition.
SUNNYVALE, CALIF. (PRWEB) JULY 10, 2018
iSmart Alarm, Inc., the leader in self-monitored DIY smart home security, today announces the launch of the Spot+ Smart Home Security Camera in the United States and Canada. This exciting new camera is available for immediate purchase at ismartalarm.com and will retail for $99.99, but for a limited time will be available for 50% off MSRP as an introductory offer.
The Spot+ camera builds on its predecessor Spot by increasing the resolution to 1080p and adding such features as live multi-camera split screen remote viewing in the app, manual recording, and on-the-go mode for use out of the house with a power bank or battery charger.
The Spot+ ("Spot Plus") camera has 1080p HD streaming video controls, free cloud video recording and storage, onboard 24/7 continuous local video recording storage (for control and viewing in the app), brilliant night vision, 8x digital zoom, intelligent motion detection, two-way audio, time lapse clips, and voice-guided setup in less than 3 minutes. iSmartAlarm's proprietary Sound Recognition algorithms identify and provide immediate notifications if they detect smoke alarm and carbon monoxide alarm sirens.
All features and functions are supported by the iSmartAlarm cloud, and there are no monthly fees and no contracts for any devices or services. Everything is covered in the product purchase price.
"Customers the world over have demonstrated their need for smart home devices and home security cameras," said Raymond Meng, CEO and Co-founder. "People are relying more and more on a smart and connected world, and Spot+ is the perfect way to add visibility and security where they may not have had any before."
Spot+ is the latest addition to the iSmartAlarm family. iSmartAlarm is a self-monitored, do-it-yourself home security system with no monthly fees or contracts. Spot+ can be used by itself, with a combination of other iSmartAlarm cameras, and can also sync with an iSmartAlarm home's CubeOne hub for more features and comprehensive protection. The system can be voice-controlled with the iSmartAlarm Amazon Alexa Skill, and all iSmartAlarm devices work together to keep homes protected. The system can be expanded to use a customized assortment of iSmartAlarm devices, such as:
Cameras – Spot+, Spot, iCamera KEEP, and iCamera KEEP Pro cameras provide HD video features for every home and budget. iSmartAlarm cameras allow users to identify intruders and assist police with free recorded video, check in on pets and kids, and receive instant notifications in case of intrusion. Each camera has unique features to fit any lifestyle, need, and budget.
Sensors – Users can monitor and observe when a door or window is opened or if movement is detected in a specific area, and receive immediate automated phone calls, text messages (SMS rates apply), push notifications, and emails with event details in case of emergency.
Devices & Accessories – Personalizing the system is easy with 110 dB Satellite Sirens (with battery backup), Remote Tags for keychain remote, and the Keypad for in-home system controls at entry or during emergencies.
About iSmart Alarm, Inc.
iSmart Alarm, Inc. was founded in Silicon Valley in 2012 and continues to innovate and lead the DIY smart home security industry. The iSmartAlarm family of smart home security products have been named CNET's Best DIY Home Security System 3 years in a row. iSmartAlarm products have won national and international awards including PC Mag's Editor's Choice Awards , the CEA Mark of Excellence, and multiple Red Dot Product Design Awards.
iSmartAlarm Smart Home Security Packages, Bundles, Devices, and Cameras are available now for purchase online and in retailers in the United States, Canada, and Europe. Product availability may vary depending on region. For more information about iSmartAlarm, please visit http://www.ismartalarm.com.
Note: We are not responsible for typo error, price change, substitute item, or available of item at woot.com.
Lưu ý: Chúng tôi không chịu trách nhiệm về lỗi ấn, thay đổi giá, hàng thay thế, hoặc có sẵn mặt hàng tại woot.com.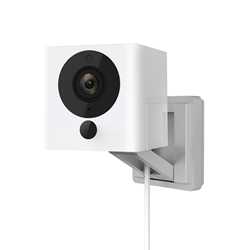 https://www.prweb.com/releases/2018/07/prweb15611506.htm